Products Which May Cause Cancer
The American Academy of Sciences estimates that 40-60 percent of cancer cases are related to food and nutrition. Diet is of great importance in cancer prevention. There are products that eat too much and increase the risk. Check which products it is better to avoid.
Saturated fats
The fatter the diet, the greater the likelihood of cancer. The saturated fats in fatty meats, for example, are particularly unfavourable. Remember to read the labels of the products you want to buy – ready-made dishes also contain a lot of saturated fats. Research shows that a fatty diet increases the risk of developing cancer of the gastrointestinal tract.
This is because fatty food leads to increased bile secretion and also affects the metabolism of colorectal bacteria and the formation of secondary bile acids, which are carcinogenic. Scientists also warn that high consumption of saturated fats contributes to more frequent diseases of breast cancer (up to two times!).
How? Rich fat diets are energy-rich diets that lead to an increase in weight and fat content in the body. This increases the level of certain hormones such as prolactin and estrogens in the circulation, and these hormones can facilitate the development of breast cancer.
Red meat
That means beef, pork, veal. The results of the EPIC study were unequivocal: people who ate about 80 g of red meat every day had an increased risk of developing colorectal cancer by up to one third! Scientists report that a similar relationship also applies to pancreatic and gastric cancer. Why does eating red meat affect the incidence of cancer?
Red meat and sausages contain particularly large amounts of hemoglobin (an iron-containing component of haemoglobin), which gives the meat a red colour. Hem can irritate and damage the mucous membranes of the large intestine and can also stimulate bacteria in this part of the digestive system to produce carcinogens.
If you are a carnivore, choose poultry meat. It has much less of this dye and its results are more optimistic. It turns out that eating white meat does not increase the risk of contracting a cancer of the large intestine.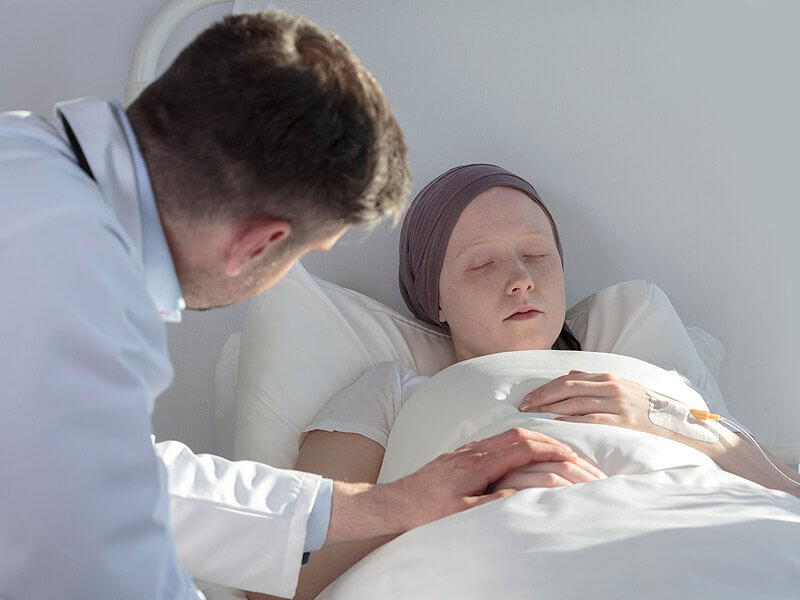 How much meat to eat? The recommendations of the World Cancer Research Fund (WCRF) state that it should not be eaten more than 500 g per week, and a very small proportion of that amount can be made up of sausages.
Crisps, fries
Potatoes are rich in starch and contain amino acid asparagine. Under the influence of temperature above 120 ° C there is a reaction between asparagine and carbohydrates, resulting in the formation of acrylamide. This substance reduces the level of natural antioxidants in the body.
The International Agency for Research on Cancer classified the compound as potentially carcinogenic. Note: The more crispy the French fries, crisps and potatoes, the higher their acrylamide levels!
Salt
Excess salt in the diet is one of the main causes of gastric cancer. Salt damages the epithelium of the stomach and causes inflammation. So remember to say goodbye to salting and salt shakers! Add salt to the dishes at the end of the cooking when they have a taste, then you will add much less salt than if you did at the beginning of the cooking.
Limit eating sausages, canned meat and fish, smoked products and canned vegetables because they are rich in salt. Give up broth cubes, ready-made seasoning mixes containing salt, soy sauce, soups and powdered sauces, salted nuts, chips and other salty snacks. But above all, read the labels!
Salt is added to ready to eat food, even food in which you don't suspect the composition of salt, e.g. milk flakes.
Cereal grains and nuts
But only those improperly stored in moisture exceeding the norm. Aflatoxins are toxins produced by fungi. They are strongly mutagenic. Foods containing aflatoxins mainly contribute to liver cancer.
How can we protect ourselves from them? The most important thing is to buy food only from good, proven sources. Watch exactly what you buy, for example peanuts. If you see stains on food, suspicious traces – you better not risk it, because it could be mould!
Alcohol
Although few people are aware of this, drinking alcohol can cause cancer. It is estimated that 2 to 4% of all cancer cases are caused directly or indirectly by alcohol. Regular drinking of alcohol increases the risk of cancer of the mouth, throat, esophagus, larynx, liver and breast. Women are more likely to be exposed to alcohol.
This is because there is more water in a woman's body. After drinking a similar amount of alcohol, a woman has a much higher blood alcohol level than a man of similar weight.
One portion of pure alcohol (10 g) per day for women (i.e. one glass of 100 ml of wine, one glass of 285 ml of beer or a small glass of 30 ml of strong alcohol) is considered acceptable or relatively safe. For a man, the acceptable daily allowance is twice as high.
A well-balanced diet helps to protect yourself against cancer. One of the basic features of such a diet is the abundance of plant products, especially fruit and vegetables and dry pulses.
Then small amounts of red meat and cold cuts and a strong restriction of food rich in salt. Remember about the diversity on the plate – a varied diet exposes the body to food shortages. The greater the variety of your diet, the better, also in cancer prevention.